Zac Matthews - Bassist
So here is Zac's web site. . . very neglected and perpetually under construction.
Take your shoes off, have a look around, make yourself at home, buy some CDs
News:
Website: You're looking at it. A major overhaul of the ZM.com website. Expect some 'under construction pages' for the next long while.
New Projects: Look out for a cool new project with 4-part vocal harmony, Upright Bass and Cajon. "Acousa" - destined to be cool with a capital K!
Upcoming Gigs: There are always fun gigs coming up, check the gig's page and come by and say hello!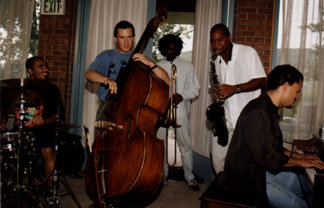 Zac jamming with Branford Marsalis, Jackie Terrason, Ali Jackson and Jamal Haynes.